1) Give us an introduction about yourself/ your business.
I'm John, a 36 year old guy living in Belgium.
In my daily profession I had the chance to buy good camera equipment which could be used for doing my photoshoots. I don't have a site where I post the pictures of my shoots because i think people are more interested in watching videoclips.
Therefore i just made a photographer's profile on Instagram and post just a few pictures of some of my shoots.
Instagram - @dvphotographyb83
2) Your photos with balloons are just stunning, tell us where it all started for you with photoshoots?
When i was around 19 years old, I discovered my first balloonsite, i think it was
Mellyloon
. There was also a balloonforum where I came in contact with other looners.
A few years later, I started to follow a course about photography. Just the basics about camera settings, light etc...I thought it would be a new way of exploring my own fantasy of girls&balloons in combination with stylish posing.
3) Take us through a normal day of shooting. From choosing the balloons, the outfits and the set up to the shooting.
Last year I didn't have the time to shoot a lot and I feel i'm very selective in which models i like to work with. Many models are willing to shoot but i like to feel the right connection with a model before i want to shoot. Before i start a shoot, i select the balloons at home. I ask a model which colours she likes and to be honest, mostly i just take a huge amount of balloons with me, sometimes with or without an electric inflator.
The style of my shootings are fashion and lingerie. I'm not used to other styles of shooting. Most of the models take some fashion outfits and lingerie and we choose in combination with the colours of balloons, the colours of the room we use etc.
Sometimes i also work with a fetish model who's used to shoot in latex outfits. It's one of those extra's I like a lot, the combination of latex clothes and latex balloons is just stunning.
4) What have been some of your favorite shoots so far?
One of the best shoots i had is one of my last ones. There was just such a positive energy during the shoot. I'm always a bit stressed before shooting but after some introduction with the model, it goes very well.
Sometimes you also feel the model is so excited to see those big balloons, most of the time they even don't know there are such big balloons. As i'm a strictly non-popper, I'm always buying new ones so i'm (almost) sure they won't pop.. although there were some accidental pops in the past.
5) You personally, what is your relationship with balloons.
I have been a looner as long as I know. I don't use them on my own. I'm interested in the combination of good-looking girls together with balloons. For me the biggest thrill is when a girl inflates balloons by mouth to their maximum without popping. I also like the hugging, kissing, sitting part.
I think in my photography I'm always looking for models who gives me these 'girl next door'-feeling, girls with beautiful lips, sparkling eyes, long hair.
6) What is your personal favorite balloons to shoot with?
Years ago i used to work with Unique 16" most of the time because they are easy to inflate by mouth and they stay soft even when they are inflated big.
For now I'm more using the Tuftex 17" because they are stronger. The GL1200 is also a great big shaped balloon to use as a seat.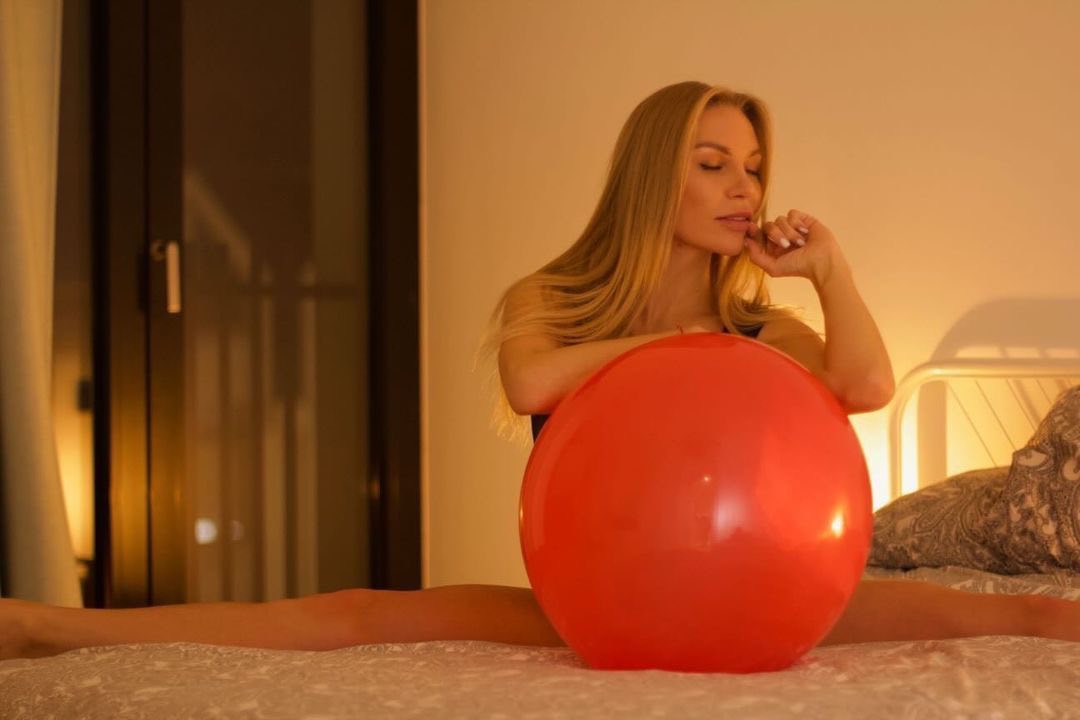 7) How are the models typical reactions and interactions with balloons during the shoots?
Most of the models are very playful with balloons, sometimes they ask more and wants to know how it comes it's a fantasy. For people who are not connected to balloons as we are, i think it sometimes difficult to understand.
Some models asked to popped them or asked they could keep some uninflated balloons as souvenir.

8) What are the future plans for photos. Are there any locations, settings or models you'd love to work with.
For this moment, I'm still looking around and I'm always open for new collaborations. I'm also doubting about getting more into videography but it needs some new investments and knowledge about editing. I will also try to make some new content in a less posing way. The style of videos I see on this site (Alissa Inflatables) is really cool, just a bunch of beautiful models having a drink at home and starting to blow balloons and play with them.
9) For collaboration what is the best way for people to connect with you?
People can contact me easily on Instagram. I don't have an open profile but i add people