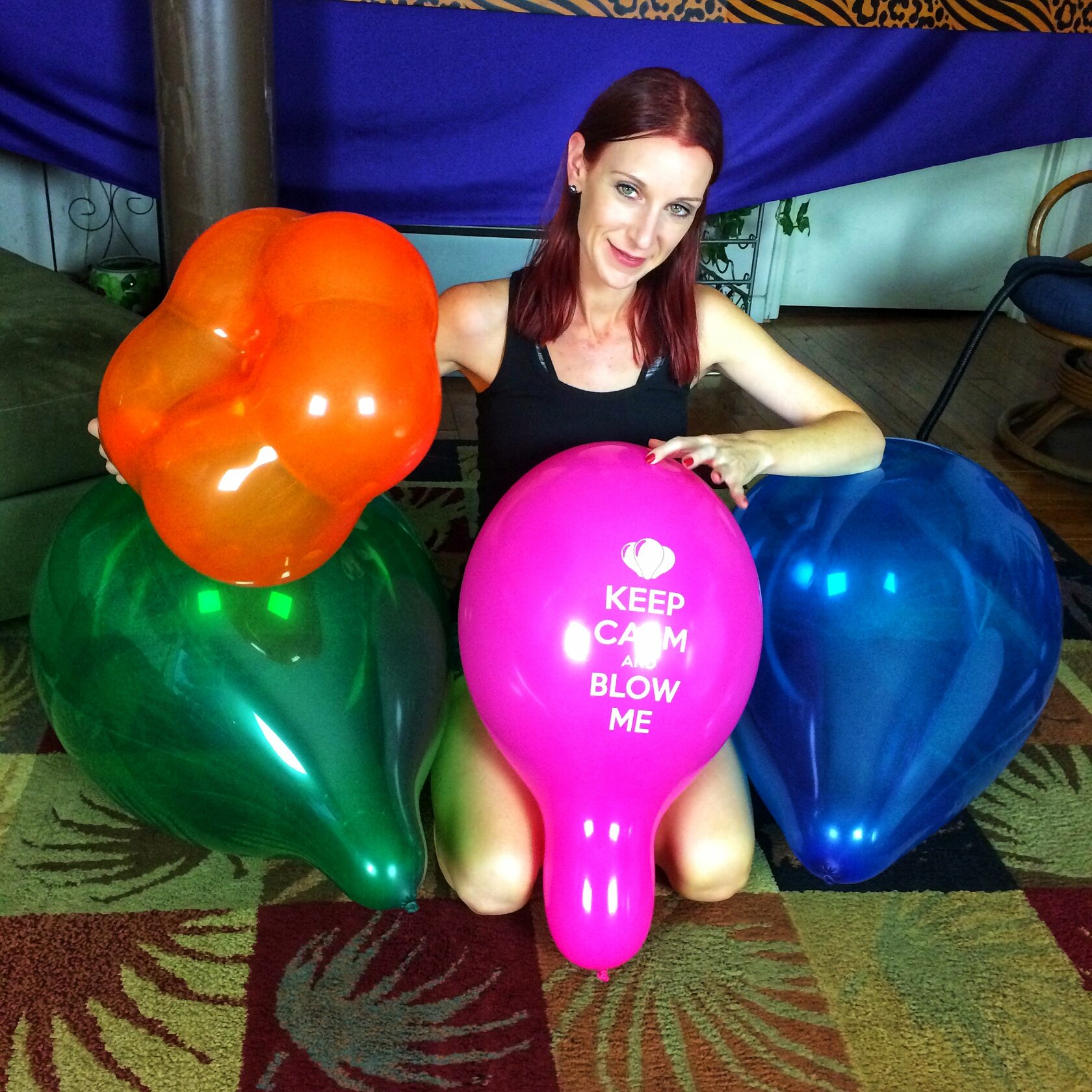 1) Give us an introduction about yourself. Name, where you are from and your favorite food.

Howdy! I'm Ravyn and I live in Tennessee. My favorite food depends on my mood and I like a wide variety but my weakness is definitely sweets.




2) How did you first get into balloons and tell us about some of your earliest memories?

I was first introduced to balloons by my boyfriend about 8 or so years ago. One of my earliest memories with balloons is a relay race we did for PE in school where we had to run around the gym and sit pop balloons. I was actually terrified of popping them. It's crazy that after so many years popping them is my favorite thing to do.




3) How would you describe your relationship with balloons? I.e popper/ semi popper

Definitely a popper. Some may survive a day or two but ultimately they will get popped.




4) What is your favorite type, size and color balloon?

I love 17 inch polka dot balloons, and my favorite crystal color would have to be pink but my favorite polka dot balloon color would be black and white.




5) What is your favorite way to pop balloons?

I would have to say popping them with my nails would have to be my favorite way but popping them with a dart or pin comes a close second.




6) You've made so many different videos over many years, what are some of your best memories?

One of my favorite memories is going to the park and filming with Natasha.; We were alone when we started filming but by the end of the shoot she had drawn quiet a crowd.




7) Tell us about your love for feet and how you like to combine this with balloons?

Well I'm kinda biased I only like my feet. Haha! Actually I'm not in to feet. I do like to use my balloons as a foot rest sometimes and I do like popping balloons in my favorite high heels but I started getting compliments and requests for pictures and videos of my feet. I love trying new things that sound fun so I started doing foot kink pictures and videos as well.




8) You have often made videos with friends in the past, how do they normally react when you tell them about balloons?

They were all surprised the first time I brought it up to them but very accepting and curious.




9) If you were in a room with 1,000 balloon what would you do?

I'd squeeze in and get in the middle of them and pop them all as fast as I could using my nails, high heels, a dart....or if I'm really bad a lit cigarette.




10) Is there anything you really want to do in a video that you havn't done yet?

I'd love to play with a bunch of balloons in a hot tub or pool. I think that would be a lot of fun!




11) Please give us all links to all your social media/ stores and a little info about them (including if you take customs/ how to do)

OnlyFans is my go to platform and you'll find exclusive content there. My clips4sale store is really my pride and joy. We opened the studio several years ago and it's so awesome to be able to look back on all the fun times I had and fun videos I have made with my friends. Clips4sale is also like a video journal of my evolution with balloon play. For example when I first started posting balloon videos I was afraid to b2p a balloon and now I enjoy it. I do custom videos just email me to discuss.

Below are the links where you can find more of my videos, pictures, and to contact me.
OnlyFans: https://onlyfans.com/ravynhazelwood
YouTube: https://www.youtube.com/channel/UCxPmXksTAm0Dr9yU8wNA1vw
Clips4Sale: https://www.clips4sale.com/studio/86035/lucid-productions
Instagram: https://www.instagram.com/RavynHazelwood/