Some of the most intimate, artistic looner videos ever created by this truly special looner......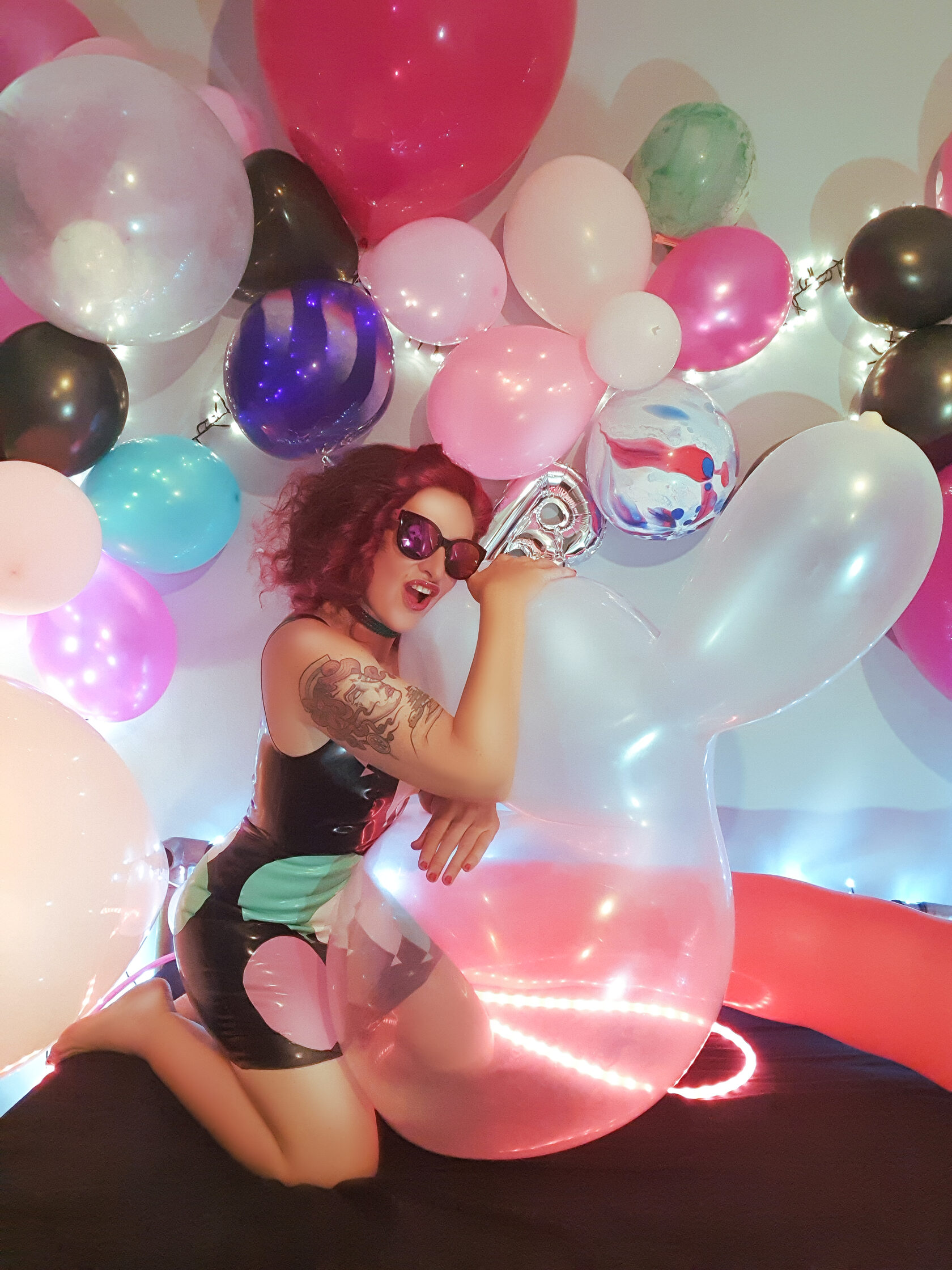 1) Tell us a little bit about yourself, balloons and your pages?

I'm Madam Bangs a Balloon obsessed minx, I create bespoke balloon movies and share my own adventures in loonerland with my fans.
I work on Only Fans because i prefer the interactive aspect of the platform and really love to hear from my fellow fetishists. I am on every social media platform and I have a YouTube chatty channel where i go into more detail about my kink.

YouTube - https://www.youtube.com/c/LoonerLady
Only Fans - www.onlyfans.com/madambangs
Instagram - www.instagram.com/madambangsloons
Twitter / FB - madambangsballoons - reddit /discord / fetlife /VK - Madam Bangs




2) Describe your relationship with balloons?

My relationship with balloons is a long and winding road to where i am now,

See Madam Bang's interview on YouTube Channel - Madam Bang's Origin Story

- I am a semi popper which means I have to be in the right mood to do any popping and it depends on the size/type of loon whether i use it a few times before "death", however as a Burlesque balloon act performer and bespoke movie maker I am used to popping on request and sometimes an unbelievable desire to Burst them does come over me. But as a long as i can prepare and have the right motivation, i can pop anything. I prefer large soft and squishy balloons for my personal use, my favourite size is BIG, and colours are Red, Pink, Teal, Black and Clear. My Favourite balloon is a Cattex Duck. I love watching others inflate and frot, I have an obsession with my collection of squeaks, often just spending time sorting and rummaging and touching them. I'Il spend ages sourcing rare and pretty loons and wait with anticipation for weeks for them to be delivered. I will sometimes re- inflate and use a favourite balloon a dozen times. I wash, dry and heat treat my precious loons so that they stay in good condition



Image by Christian - https://www.instagram.com/chritorredimare/

3) Your Only Fans page has literally the most incredible collection of Looner art, performances, balloons sets, sexual acts and bespoke videos. Someone joins today, what do you want them to do when they become a fan?

What i really want people to do when they join is watch me, comment, give me hearts and give me words. Tell me in the DMs what they most enjoyed. It inspires me to hear what people liked best about what I'm doing - lets call it virtual applause. When the entertainment industry collapsed due to Covid, I lost all of my performance work so a few of my loony lovers told me I should be making hot Looner content to help pay my rent... sure glad i took their advice.






4) You seem to love when people interact with your videos and have a genuine passion for speaking with fellow looners and understanding what they love. What's the best way for people to interact with you and what do you most love hearing from people?

I love to hear about all the nuances of the kink, what most gets you going. Quite often my content is led by requests in my only fans inbox. I love to hear what you did while watching me, what you want to see me do plus i have ongoing interactive story lines and themes that i set challenges for. The interaction is everything for me. but as you can imagine I get a lot of messages on several platforms. I require a Commitment / subscription to chat as it shows you are invested in me and that I'm worth sponsoring. basically you are buying me lunch once a month for a chat - then you can order bespoke movies or choose to buy tickets to my other custom work.





5) Tell us about your balloon burlesque acts, what you most loved and how spectators reacted at your shows?

I've been performing with Balloons since 2003, Its a common theme in Burlesque, so do look out for your local burlesque shows or book me for your private events!! I most love my balloon act which was created with looners in mind rather than the classic vintage balloon dance. I did a LOT of popping and blowing with a nod to many of the kinks nuances instead of a coy reveal dance. Almost 20 years of balloon acts and my favourite moment was blow to popping on an audience members bottom!! cheeky!! The crowds seem to love it, as they would any performer who is enjoying what they are doing. My Most popular Burlesque act was a Miss Piggy routine where i reveal rhinestoned kermit nipple covers :)




6) Describe your personal fantasy with balloon. What balloons are there, who is there, what do you wear and what do you do?

I am in Love with a fellow Looner artist online, we've never met but my fantasy is to meet him in a hotel in Paris one day. The balloons we bring would be a couple of GLs , Ducky (of course), rabbit, doll, worker, some Chinese 36" some TT 24s and 100 pretty Indian balloons. i would be wearing a red latex dress - We would make out and bounce and squeak on every loon in the room. I'm sure you can all imagine stuffing a hotel room!! BANG.




7) If you could say one thing to the entire community what would it be?

When you DM a fellow Looner online be sure that you aren't immediately making a request or demanding an answer to a personal question and definitely say more than just "hi", the just say hi guy is my least favourite. When you initiate a conversation be generous and polite and have a point, otherwise just interact with posts and avoid messaging unless you have a genuine thing to say. Check a persons feed / posts / online content beforehand so you aren't making assumptions or asking them something that they have answered 10000 times.
------------------HELP STOP PIRACY BY REFUSING TO CLIP TRADE --------------------



8 You make bespoke videos and seem to really love hearing people's ideas. What are some of your favourites so far and what the best way for people to order their balloon fantasy from you.

I love to get Bespoke video requests, especially the weird or sexy stuff!! and any figure or big balloon will get priority . The way it works is that you join my only fans, watch what I can do, take some time to explain your specific kink to me before demanding your clip - the more i know about you and your nuances of the kink, the more likely I will create something that you will love forever. The more explicit and specific your instructions are the better your video will be. If you spend time telling me what you love about my performances and are descriptive you could also win extra treats!!! I have favourites who know just how to challenge my adventurous side and those that feed me with words.




9) Anything else you would like to add or say

Inflatables - I get requests to do these as well and I'm a fun and sexually free woman with very few inhibitions so go on these fun adventures too. I love the smell of them and always love blowing but in all honesty I am not turned on by the cold plastic like I am with a warm squishy balloon. I am very happy to do them as I love to make people movies and I'm an exhibitionist, I just love to be watched and told hot things..