Looking through YouTube for looner inspiration I found a live video....I opened and found a wonderful woman, with a room filled with balloons. I watched and she inspired me, I wanted to find out some more about this powerful and sexy lady.


Question 1) Give a little into about yourself, like name, where you are from and how you got into balloons.
A) I'm Lady Beeatrix, from Southern Missouri and I got into balloons from my crush and latex fetish. It started about 4 yrs ago with a half deflated balloon I found in a store. If was hiding under a clothing rack almost completely deflated but not quite... I put it out of it's misery by stomping it in sharp heels and have loved destroying them since!


Question 2) When did you first start making balloon videos can you remember first clip?
A) The one under the clothing rack was the first looner video I made too. About 4 years ago.

Question 3) How would you describe your relationship with balloons? Are you a popper, semi popper or non popper?
A) I'm a popper but will occasionally keep them to tease them some! But they always get popped unless someone offers to rescue them first!

Question 4) You make some great outdoor videos with balloon in public. What is the normal reaction of people when you pop balloons in public.
A) I've been caught a few times! Most either don't notice or don't mind. One car full of guys honked and waved while I was sitting on one attached to a sign I found. I caught it in the clip I was making. I think they knew what was happening and that just made it more exciting! Another lady got mad and tried chasing me but I just kept going and jumped in my car to leave.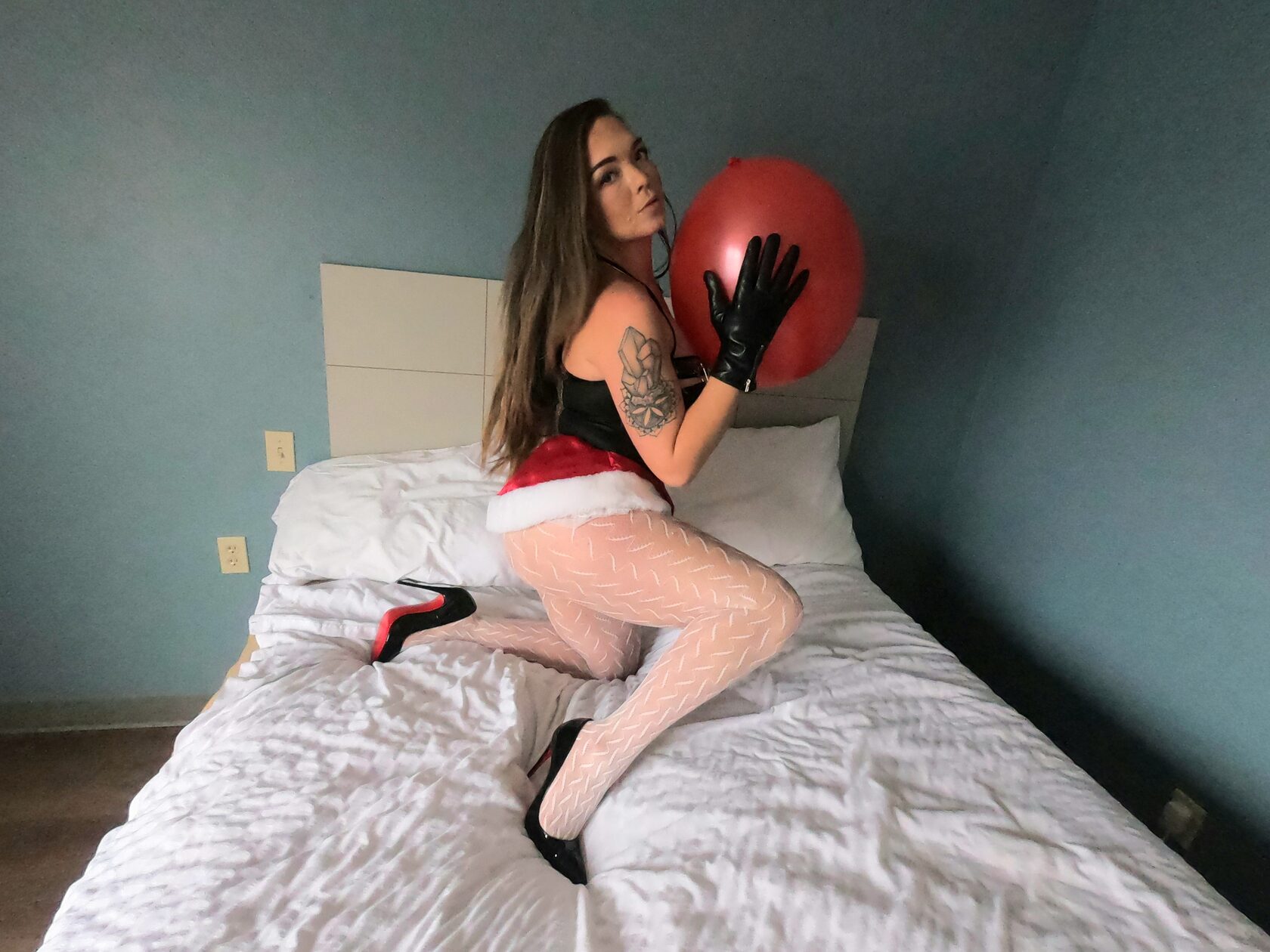 Question 5) You are in a room filled with balloons....what would you most like to do with them if you had the choice?
A) Ride until they pop and tease them until they explode all over the room! My favorite are confetti filled because they are so messy!

Question 6) You do loads of free live shows on YouTube, what do you most like about making YouTube Live clips
A) I love interacting with other looners, it cheers me up to talk and pop them. I dont take many requests but when I'm live I do. So it's fun to get people talking and enjoying the show! I'm always in a better mood after! Make sure to check out My YouTube channel, I appreciate the support! We just hit 4,000 subscribers!

Question 7) What is your favourite way to pop balloons and favourite type/ size/ colour of balloon?
A) Lately I've really been enjoying 36" and 17" Tuftex. Purple is my favourite and Sit to pop is the best! I really want some Cattex soon!
I had a blast doing 10 x 72" and I'm doing another clip with 10 more soon as a custom clip! I can't wait for that!



Question 8 What are some of the best memories you have from shows/ videos with balloons?
A) I would say the 10x 6ft balloons was so fun! It was amazing to watch the room fill up! I couldn't wait to play and pop them!



Question 9) Send us all links you have for people that want to buy your videos or support what you do
Onlyfans.com/ladybeeatrix
Patreon.com/GoddessBeeatrix
https://youtube.com/channel/UCENgubwsk8WgVu8CHjep1IA
IG@LadyBeeatrix
Amazon Looner + Inflatable Wishlist-
https://www.amazon.com/hz/wishlist/ls/3QFY3EGNVRZS1?ref_=wl_share